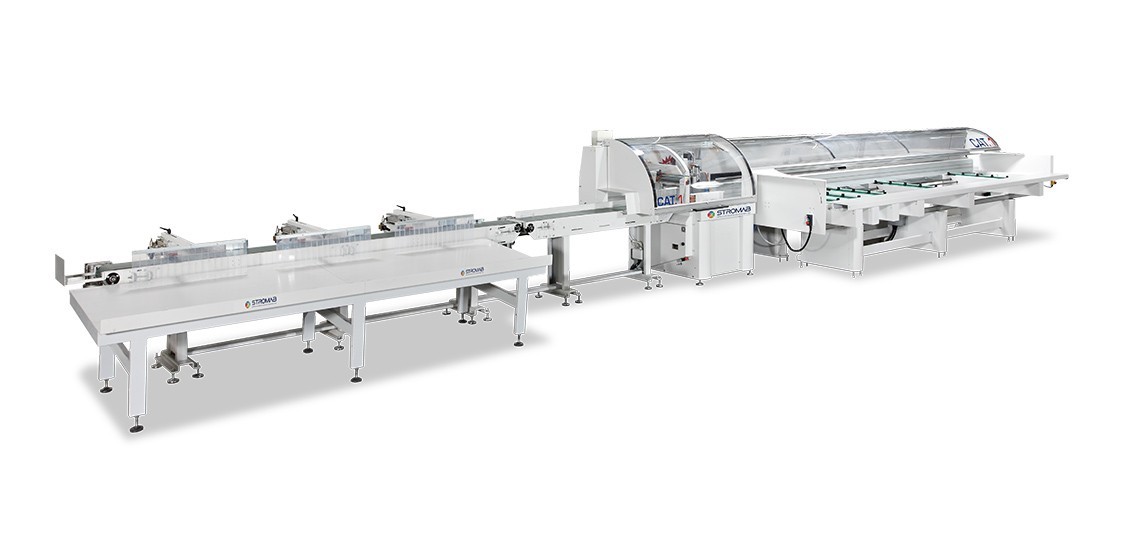 Cat. 1 combines cutting speed and precision measurements with solutions aimed to meet the most demanding production requirements.
The innovative design of the push feed system and the technical solutions adopted for use in the cutting-off unit allow for a speed of travel of 240 m./min., with a positioning accuracy not exceeding +/- 0.1 mm.
The new software installed on the machine and a top-of-the-line industrial Windows-based PC ensure that programming is fast and easy
CAT.1 Basic version + electronic unloader (photo)
Continuous-module loader
Driven by chains and adjustable pins
Pneumatic side aligners
Galvanized steel work surface
Push-feed system with aluminium profile
Feeder system with rack and pinion
Feeder system with brushless motor
Carriage-gripper with an innovative pneumatic system
Hidden lower tail gripper
Pneumatic cutting machine with high-performance cutting cycle
Input and output side aligners
Outfeed belt
Electronic unloader with pneumatic cylinders
OPTIONAL EQUIPMENT: Automatic reading of the timber section, Push-feed work surface in stainless steel, Ink-jet printers and rapid-cylinder unloader.
applications for this product
discover the applications for this product
Other Products
Range of straight cut-off saws